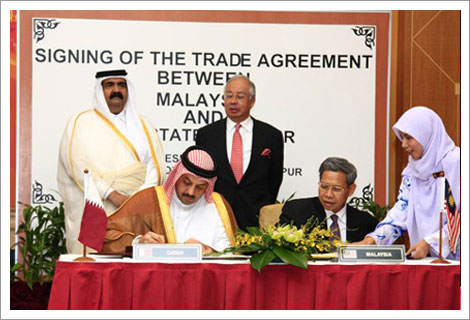 | | | |
| --- | --- | --- |
| | | |
| | H.H. The Amir and H.E. Mr. Najib Tun Razak, Prime Minister of Malaysia, witness the signing of a trade agreement between the two countries. | |
| | | |


Qatar constantly endeavours to establish relations of solid cooperation with all peace-loving states and peoples, and generously provides assistance and financial help to numerous developing countries in Asia and Africa, as well as participation in various regional and international development funds to serve international cooperation at the broadest possible level. The State of Qatar rejects and condemns all forms and aspects of terrorism in all its manifestations and all its forms and means, while stressing the need to distinguish between terrorism and peoples' struggle and legitimate right to gain freedom and self-determination in accordance with the rules of international law. In addition, Qatar welcomes all agreements to settle such disputes and supports the efforts of regional and international organizations to bring about peace in numerous countries and regions to guarantee peoples' security and their stability in the whole world.

Qatar assumed the chairmanship of the Group of 77 and China for 2004 on 17 January 2004. In 2004, Qatar assumed the chairmanship of the G-77 + China, the largest alliance of developing countries at the United Nations. The G-77 + China held its first formal meeting chaired by Qatar in January 2004.

The State of Qatar was elected a member of the UNGA Media Committee as per the General Assembly's resolution passed on 10 December 2004.